Khashoggi murder: Son arrives in US from Saudi Arabia

US & Canada US & Canada Khashoggi murder: Son arrives in US from Saudi Arabia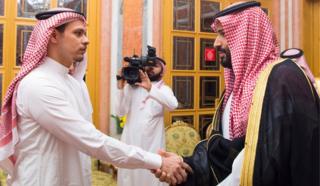 Th e eldest son of the murdered Saudi journalist, Jamal Khashoggi, has arrived in the US from Saudi Arabia, with family members.
Salah Khashoggi had previously been unable to leave Saudi Arabia due to his father's criticism of the leadership.
He was pictured on Tuesday receiving condolences from de facto Saudi leader Crown Prince Mohammed bin Salman.
Jamal Khashoggi was murdered in the Saudi consulate in Istanbul three weeks ago.
Saudi Arabia's public prosecutor said on Thursday that the killing was premeditated. Saudi officials have also been blaming "rogue" agents as Riyadh has struggled to provide a credible explanation for how Jamal Khashoggi met his end.
How Saudis changed story on Khashoggi
All you need to know about Khashoggi's death
Who was the victim?
At first Saudi Arabia maintained the journalist, who had US residency and contributed to the Washington Post, had left th e building "unharmed" on 2 October - then that he had been killed in a brawl.
Turkish investigators, speaking off the record, have said the crown prince must have known what was going on. Riyadh denies he had a role in the death.
Salah Khashoggi briefly shook hands with Crown Prince Mohammed and gave what many see as a cold stare during Tuesday's apparently staged meeting.
Some are suggesting the meeting may have been the price for being allowed to leave the country.
A US spokesman said that Secretary of State Mike Pompeo had told Saudi leaders that he wanted Salah Khashoggi, a dual citizen, to be able to return to the US and was "pleased" that he had been allowed to do so.
What has the CIA been doing?
CIA director Gina Haspel has been in Turkey being briefed by investigators. On her return, she briefed President Donald Trump on Thursday.
No details were released, but media reports said that during the Turkey v isit Ms Haspel had heard audio recordings that investigators claim capture the murder.
Mr Pompeo was also at the White House with Ms Haspel.
On Wednesday Turkey's Sabah newspaper said she had listened to audio recordings of Khashoggi's interrogation and death, but gave no details about the contents or how the audio had been obtained.
Sources quoted by the Washington Post and Reuters news agency later backed up the reports.
A person "familiar with the audio" told the Washington Post that it was "compelling".
What has been happening in Saudi Arabia?
State T V quoted the Saudi public prosecutor as saying the killing was premeditated.
Suspects were being questioned following information provided by a joint Saudi-Turkish team, it said.
The official Saudi Press Agency reported that on Thursday Crown Prince Mohammed chaired the first meeting of a committee to reform the state's intelligence services, which was set up following Mr Khashoggi's death.
Last week Saudi Arabia sacked two key advisers to the prince, and arrested 18 people.
On Wednesday Crown Prince Mohammed vowed to punish those responsible for the murd er.
What's the latest with the investigation?
There is still no sign of the body.
Turkey's Anadolu news agency said on Thursday that 38 members of staff at the Istanbul consulate had been questioned as witnesses.
The focus has been on a well in the garden of the Saudi consulate building.
Why Saudi Arabia matters to the West
What is Turkey's game with Saudi Arabia?
What business does the UK do with Saudi Arabia?
And on Tuesday there were conflicting reports over whether Jamal Khashoggi's belongings ha d been found in suitcases in a Saudi diplomatic car.
This week, Turkish President Erdogan said Turkey had strong evidence the journalist was killed in a premeditated and "savage" murder and has called for the suspects to be tried in Istanbul.
What is Donald Trump's line?
The case has strained Saudi Arabia's relations with the US and other allies.
On Tuesday the US president voiced his strongest criticism of the Saudi government to date and suggested the crown prince must have known what was going on.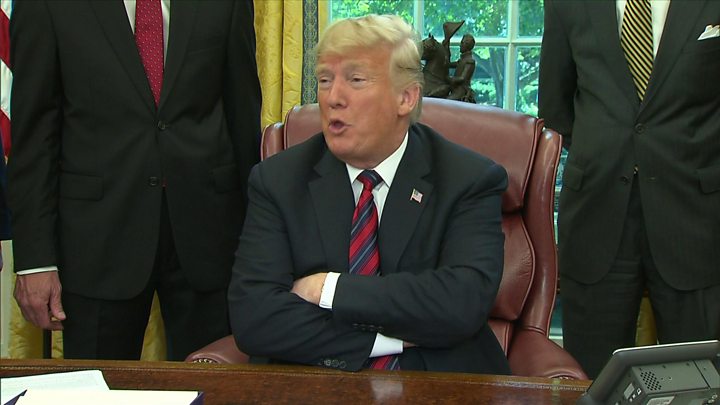 He told the Wall Street Journal: "Well, the prince [Mohammed bin Salman] is running things over there more so at this stage . He's running things and so if anybody were going to be, it would be him."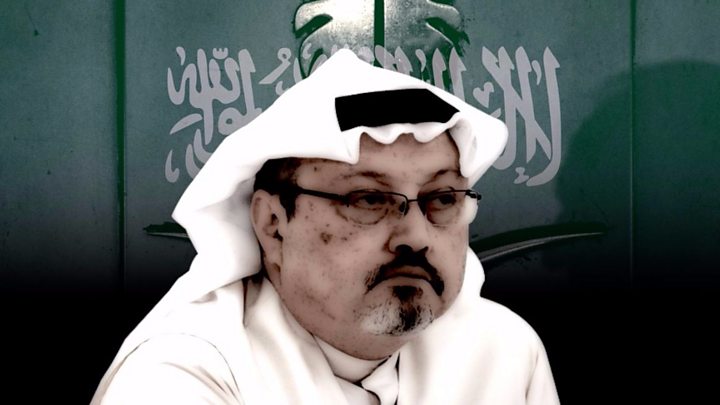 Earlier he said: "They had a very bad original concept, it was carried out poorly and the cover-up was the worst in the history of cover-ups."
The US is revoking the visas of those believed to be responsible for Khashoggi's killing.
Top Stories
Bomb squad searches Florida post office
Devices have been sent to eight high-profile p eople - actor Robert De Niro is the latest.
26 October 2018
Khashoggi's eldest son arrives in US
26 October 2018
The murder that changed America
25 October 2018
Features
The murder that changed America
What happened to the 2nd Platoon?
Why lion cubs are turning up across Europe
Who supports Brazil's far-right candidate?
Video
'My tribal marks are my trademark'
Putin shrugs off Trump's nuclear arms move
Jewish life revealed between World Wars
BBC Culture: Modern homes of Hollywood legends
Hot chilli challenge spices up election
Elsewhere on the BBC
Football phrases
15 sayings from around the world
Full article Football phrases Why you can trust BBC News
BBC News Services
On your mobile
On your connected tv
Get news alerts
Contact BBC News
Source:
Google News Saudi Arabia
|
Netizen 24 Saudi Arabia