Khashoggi: Saudi Arabia to try suspects, foreign minister says

US & Canada US & Canada Khashoggi: Saudi Arabia to try suspects, foreign minister says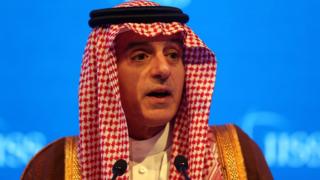 Saudi Arabia's foreign minister has said the suspects in the killing of Saudi journalist Jamal Khashoggi would be prosecuted in Saudi Arabia.
At a conference in Bahrain, Adel al-Jubeir accused the western media of "hysteria" in its coverage of the case.
His comments come a day after Turkey said it wished to extradite 18 Saudi nationals authorities say were involved in the murder.
The writer was killed in the Saudi consulate in Istanbul three weeks ago.
Riyadh denies the ruling royal family was involved and blames "rogue agents".
Saudi Arabia initially denied all knowledge of the journalist's fate but the Saudi public prosecutor now describes it as premeditated murder.
Khashoggi had been an outspoken critic of the crown prince, the de facto Saudi ruler.
The Jamal Khashoggi story so far
The journalist who vanished into a consulate
How Saudis changed story on Khashoggi
"On the issue of extradition, the individuals are Saudi nationals. They're detained in Saudi Arabia, and the investigation is in Saudi Arabia, and they will be prosecuted in Saudi Arabia," Mr al-Jubeir told a security conference in Bahrain.
Turkey and Saudi Arabia are not known to have an extradition treaty.
US Defence Secretary Jim Mattis said Khashoggi's death in a diplomatic facility "must concern us all".
He said the United States "does not tolerate this kind of ruthless action to silence Mr. Khashoggi, a journalist, through violence."
"Failure of any nation to adhere to international norms and the rule of law undermines regional stability at a time when it is needed most," he added.
Khashoggi's fiancée says she has declined an invitation to the White House from US President Donald Trump, accusing him of not being sincere about investigating the killing.
Hatice Cengiz told Turkish TV she thought the invitation was aimed at influencing public opinion in the US.
President Trump has said he is "not satisfied" with the Saudi account. However, while he has floated the possibility of imposing sanctions. he has also stressed the importance of the two countries' ties.
Mr Trump also said it was "possible" Crown Prince Mohammed bin Salman did not know about the killing.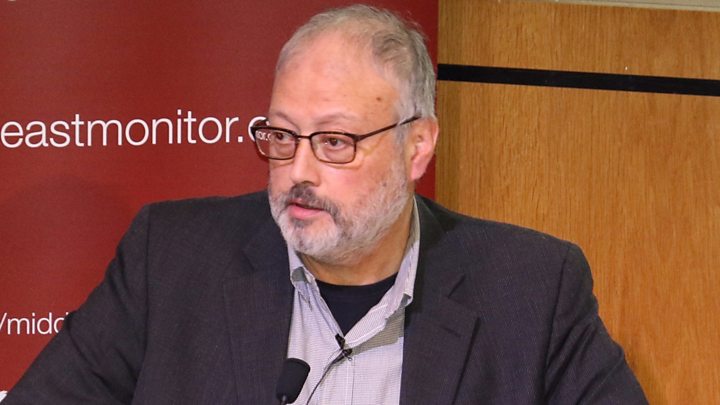 What else did his fiancée say?
In a tearful television interview on Friday, Ms Cengiz recounted the day her fiancé vanished, saying she would never have let her partner enter the consulate if she had thought that the "Saudi Arabia authorities would hatch a plot" to kill him.
"I demand that all those involved in this savagery from the highest to the lowest levels are punished and brought to justice," she told Haberturk TV.
She said she had not been contacted by any Saudi officials but that she was unlikely to go to Saudi Arabia for a funeral, should Khashoggi's missing body eventually be found.
Turkish President Recep Tayyip Erdogan has called on the Saudis to admit who ordered the killing and where the body is.
The US-based writer's eldest son arrived in the US from Saudi Arabia on Thursday, along with his family. Salah Khashoggi, a dual Saudi-US citizen, had been barred from leaving Saudi Arabia because of his father's criticism of the country's leadership, but this sanction was recently lifted.
How other key powers see the situation?
Most of Saudi Arabia's western allies have expressed shock and have demanded a full explanation.
Why Saudi Arabia matters to the West
But there is disagreement over how to respond.
While Germany has suspended arms exports to the Gulf nation, French President Emmanuel Macron said it would be "pure demagoguery to say 'we must stop arms sales'".
The sale of weapons "has nothing to do with Mr Khashoggi. One shouldn't mix everything up", he said on Friday.
The European Parliament on Thursday passed a non-binding resolution urging an EU-wide arms embargo on Saudi Arabia in response to the murder.
Russia has said the royal family should be believed and that "no-one should have any reasons not to believe them," Kremlin spokesman Dmitry Peskov said.
Top Stories
Man charged over US mail bombings
Cesar Sayoc, who appears to be a Trump supporter, sent several mail bombs to critics of the president.
27 October 2018
Saudis say they will try Khashoggi suspects
27 October 2018
Mexico makes o ffer to caravan migrants
27 October 2018
Features
The murder that changed America
Who is mail bomb suspect Cesar Sayoc?
Now I have a new penis, I hope I will find love
Are supplements safe and do they work?
How do cosplayers make their money?
Your Brazil election guide in five charts
Merkel facing double trouble in German vote
Will the Khashoggi affair reshape the Middle East?
BBC Future: The best age to learn a language?
Elsewhere on the BBC
Football phrases
15 sayings from around the world
Full article Football phrases Why you can trust BBC News
BBC News Services
On your mobile
On your connected tv
Get news alerts
Contact BBC News
Source:
Google News Saudi Arabia
|
Netizen 24 Saudi Arabia